Fethiye Blue Cruise
Fethiye Boat Charter & Blue Cruise
Fethiye, one of the most popular regions of Summer Tourism in Turkey, is also a favorite holiday destination in Blue Cruise. Fethiye is home to perfect bays where green and blue meet, natural and historical villages, and beaches of incredible beauty.
This coastal town of Muğla is one of the most popular distinct of Turkey. If we take Fethiye as the starting point, you can explore the Aegean and Mediterranean coasts with our Fethiye Blue Cruise program.
Fethiye Blue Cruise Options
We have boats and yachts in our portfolio that appeal to every budget and taste. It is now much easier to get the sea holiday you want with the affordable Fethiye blue cruise or luxury Fethiye Blue Cruise options.
We have all kinds of options, from single-chamber types to 10-chamber types. We have options to choose as a nuclear family or a group of friends, or a large family.
Our Yacht Types: We have wooden boat Gulet and Motor yacht types.
Our gulets are Classic wooden yachts, while our private yachts consist of motor yachts and trawlers, sailboats.
Our Blue Cruise Programs; We have Fethiye Blue Cruise options according to the wishes and budgets of our guests. You can also choose different options such as Economic Fethiye Blue Cruise, Mini Fethiye Blue Cruise, Standard Fethiye Blue Cruise, Luxury Fethiye Blue Cruise.
Our Blue Cruise programs are usually 3 nights, 4 days, or 7 nights 8 days a week.
You can also make a daily boat tour or daily private yacht charter if you wish.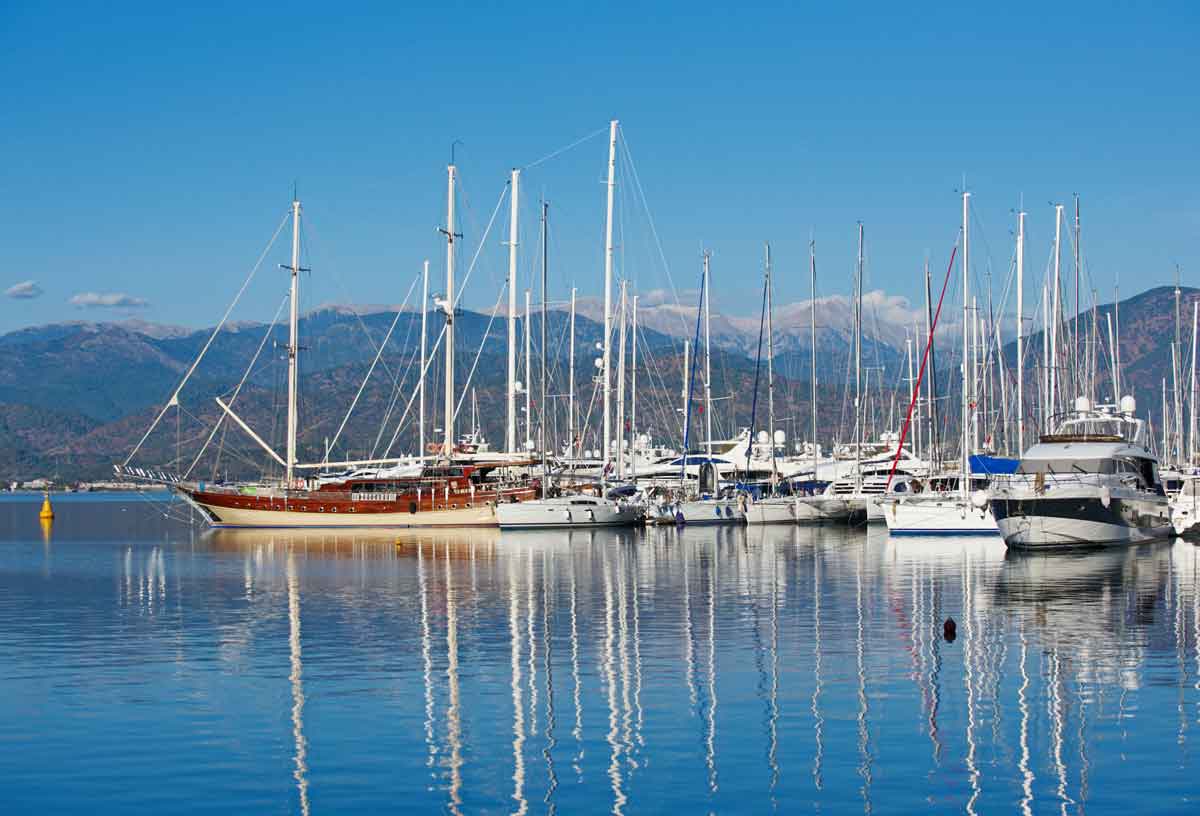 Fethiye Blue Cruise Fethiye Yacht Charter: We employ a crew for daily charters, mini yacht charters, or long-term charters, but we can charter without personnel if you have qualification documents.
In our other rental options, we provide all personnel. If desired, we can offer a captain, cook, sailor, hostess, or extra personnel. While you are enjoying your holiday, our team and we take care of all your transactions and provide you with better service.
Fethiye Blue Cruise Cabin Charter: You don't need a boat to have a vacation on the sea. You can meet our Fethiye Blue Cruise cabin charter service suitable for all kinds of budgets and realize your dream holiday.
Cabin charter is generally available on our wooden boats. You can enjoy a Blue cruise with our wooden gulets. You can enjoy your boat holiday with private cabins or shared cabins.
Fethiye Blue Cruise Routes
You can reach our Fethiye blue cruise programs by renting a cabin or renting a yacht. When you rent a cabin, we proceed by following the predetermined route. Our most followed routes in blue cruises departing from Fethiye are Göçek, Kekova, Gökova, Marmaris and Patara.
The most desired bays are as follows; Turunc, Aquarium, Sarsala. Bedri Rahmi, Sarıyarlar, Red Island, Butterfly Valley, Samanlık, Ölüdeniz.
If you wish, you can join the Greek Islands from Fethiye and explore the Greek islands such as Rhodes and Symi.
If you want to reach the Mediterranean coasts, you can see the preferred Mediterranean coves such as Ölüdeniz, Kaş, Kalkan, Demre, and Finike.
You can swim or dive in the bays, join water skiing or sea activities, enjoy the sea to the fullest, or explore historical ancient cities.
You can swim on the coasts and bays and do underwater and surface activities such as scuba diving and water skiing. You can go to the shore and visit the magnificent nature, historical artefacts, and beauties if you want.
Fethiye Blue Cruise Concept
We appeal to everyone with our long-term yacht charter, short-term yacht charter, cabin charter, affordable blue cruise, economical blue cruise, Fethiye blue cruise, Oludeniz Blue cruise options. When you go on vacation a cabin charters, your vacation includes breakfast, lunch, dinner and 5 o'clock tea. All expenses include port taxes, utility water, marina fees, and customs payments. There is no charge for bath towels, bed linen, cleaning, fishing equipment, and water sports materials on the boat.
If you are going to the Fethiye Blue Cruise program in the form of a cabin charter, full board is applied. If you want a Greek islands tour, an all-inclusive program is available.
When you charter a yacht, you can specify a food and beverage list and ask our staff to pick it up, or you can shop and bring it yourself. All of our cooks on our boats are experienced and skilled cooks. They will make delicious meals and add quality to your holiday
Joining the Fethiye Blue Cruise
You can join the Fethiye Blue Cruise in 2 different ways. By chartering a yacht or chartering a cabin. Early booking would be the best option for you, both you want and the route you want.
Why Fethiye for Blue Cruise
In addition to being one of the most touristic places in our country, Fethiye has a very important place due to its historical texture.
The beaches of Fethiye are fascinating and very impressive in all respects, rich in natural beauty and a structure that smells of history. For this reason, Fethiye Blue Cruise should be your first choice. You can evaluate our options, including affordable blue and economical blue cruises.
Since Gocek-Fethiye is located in the Special Environmental Protection Zone, they have never lost their beauty. Due to the collapses and elevations over the centuries, new bays and capes have been created.
Small coves and gulfs, which are why the region is attractive, are among the main beauty elements of the Gocek-Fethiye region. The twelve islands are among the most popular in the area. All of the islands, large and small, advancing to the west and northwest of the Fethiye Gulf, are called twelve islands.
The region is rich in red pine, cedar, and larch trees, its coasts are full of olive groves, oak groves, and citrus trees, and it has forests with occasional log trees.
This area, which is the home of the Caretta Caretta, is the breeding area of the Caretta Caretta and has been taken under protection following the Bern Convention.
Blue Cruises departing from Fethiye are available for long-term rentals, short-term rentals, or cabin rentals. To find out the details of our affordable blue cruises, economical blue cruises, or mini blue cruise packages, please call +90 850 885 14 75 or fill out the contact form on the Mr S Yacthing page.