Gocek Blue Cruise
Gocek Boat Rentals
Gocek is a cute and small holiday resort in the Fethiye district of Muğla, which is a hidden paradise hidden among the deep coves of the Mediterranean. It has a sheltered and crowded structure as it is not as dense as Bodrum and Marmaris in terms of popularity and is not suitable for growth due to its location.
With its natural beauties under protection, small, calm, and quiet life, untouched coves, and historical texture, it is the favourite of Blue Cruise passengers. You can look at our Gocek Mavi tour options, which are suitable for you to spend your holiday and reset yourself to get rid of the tiredness of a year under stress and intense work tempo, to get rid of the crowd of the city. You can have a nice holiday experience with Gocek cabin rental or Gocek boat rental options for yourself and your loved ones.
Our Gocek Blue Cruise Plan
Although the general starting points of our blue cruises are Bodrum, LinkMarmarisLink, and Fethiye links, we can choose from Gocek Departure Blue Cruise depending on the availability on the route and our boats.
With our different gulet, motor yacht, trawler, and sailboat options in our portfolio, you can make your dream blue cruise vacation by contacting us as Mr S Yacthing.
It is ideal for you to rent our motor yachts and trawler boats for your Blue Cruise programs. As it is known, motor yachts can reach anywhere you want in a very short time thanks to their fast engines.
Our motor yachts offer a variety of possibilities, from 1 cabin to 4 passenger options, to 6 cabins to 12 passengers. Since each of our motor yachts has been designed with every detail of luxury and comfort in mind, it has every feature to ensure that your Blue Cruise holiday is of first-class quality.
Suppose you want to join our blue cruise Gocek program for company organization or in crowded groups. In that case, we can offer you the Trawler boat option, because it has multi-story and spacious cabins and can take more people. The holiday option with Trawler boats is an affordable option. If you want the suitable Gocek blue cruise option, you can consider the Trawler option, and you will not compromise on the comfort of the motor yacht.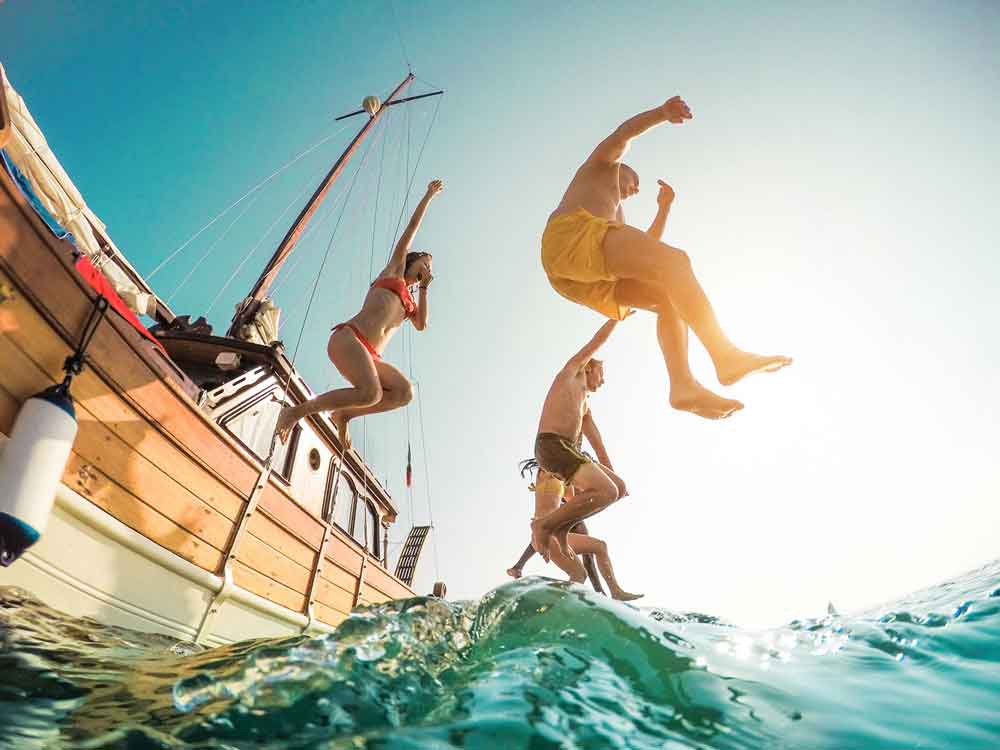 You can think of each of our cabins as a hotel room. You have your shower cabin and toilet, depending on the room you choose. We have cabins consisting of either a double bed or 2 single beds and a wardrobe. According to the characteristics of our boats, all common areas such as saloon sizes, kitchen, sunbathing, resting areas have been designed with the comfort of our valued guests in mind.
All kinds of maintenance, repair, and security measures have been taken for our motor yachts and boats. And all our professional equipment such as lifeboat, lifebuoys, communication devices, radar, depth gauge, GPS, compass, satellite communication devices, autopilot, electronic map are available on our boats.
Gocek Blue Cruise Routes
Gocek, a paradise of natural beauty hidden between Oludeniz and Dalyan, is home to 6 different coves, each more valuable than the other. Gocek is also on the Gocek Blue Cruise route of Bodrum, Marmaris, Fethiye and is a visited bay.
The most famous bays of Göçek town are primarily Bedri Rahmi, Sarsala, Ayten, Göbün, Cleopatra (hamam bay), and daily, and there are bays. You can stop at any bay you want, anchor and dive. Cleopatra Bay is a cove that hosts historic ruins, and you can examine these ruins if you wish.
Gocek Blue tours, if you want, you can choose the route Fethiye, Ölüdeniz, Kalkan, Kaş, Kekova. If you want, you can dive into the depths of the Aegean Sea and follow the route of Marmaris, Datça, Bozburun, Hisarönü and explore that region.
If you take advantage of our yacht charter option, you can create your route, or if you talk to our experienced captains who have a great knowledge of the region and specify in advance which bays you want to stay and how long you want to visit, they will create the best route with you.
However, if you choose the cabin rental option, you, unfortunately, do not have the chance to determine a route, and you will have to follow the predetermined route. In such cases, exit from the route is made only in an emergency and very critical situations.
Meal On Our Gocek Blue Cruise Boats
If you choose the yacht charter option, you organize the food and beverage business, so you own the food, you can do your shopping and bring it yourself.
You can also make a list and give it to the crew in advance and ask them to organize it.
In addition to the captain, all our boats also have a chef included in the crew.
Our experienced and expert chefs will add pleasure to your holiday with their delicious meals that appeal to both the eyes and the stomach. During your holiday, you can leave your daily food menu to our cook, or you can prepare it yourself. If our guests have any food allergies or need a special menu, you must inform our cook in advance.
Eating, Drinking in cabin rental option; If you rent a cabin and go on a Gocek blue cruise, the full board system in hotels is applied in this package. Starting with breakfast in the morning, then lunch, 5 o'clock tea and refreshments, and finally dinner service is included in the price. Drinking water is also free on some of our boats. Please ask before making a reservation. Apart from these, all kinds of drinks from the bar are subject to an extra fee.
The all-inclusive program is applied here if you start your holiday with our Gocek-Greek Islands blue cruise option. With all meals, tea, coffee, water, beer, wine, and the famous Greek drink ouzo are included in the price and are served as you wish.
Gocek Blue Cruise Price Included
When you rent a cabin or a yacht, you do not need to deal with any port, marina, customs, mooring, agency, or insurance fees. While you are enjoying your holiday, our teams take care of them.
Bed linen, cleaning, bath towels, sea and fishing equipment are included in the price during your holiday.
Entrance fees to ruins or private marina entrances with drinks taken from the bar are subject to a fee.
Gocek Blue Cruise Boat Charter Conditions
When you contact us for the Gocek Blue tour program, we determine the holiday program together with the features and conditions you want. After selecting the details such as a boat, rental part, and duration, we prepare a rental agreement.
While our staff members prepare the rental contract for you, we determine the remaining details and then sign the contract. After signing, we receive a minimum of 50% of the entire fee as a transfer.
We are sending you the sample of the contract we signed as a company via e-mail, and your rental process is completed.
If you want to cancel due to any circumstance, the conditions in the contract come into play, and if you cancel 90 days before the start of the tour, 20% of the down payment is deducted, and if you want to cancel 60 days before, 30% is deducted. If you're going to cancel 30 days before, your deposit is not refunded, but if you want to apply for the same holiday plan next year, you can use the 30% deduction in your new holiday plan.
How can you charter a Göcek Blue Cruise?
If you want to make a Gocek Blue cruise with a cabin or yacht charter program, you can reach us by filling out the form on our website mrsyacthing.com or by calling +90 850 885 14 75.
Don't hesitate to get in touch with us to take advantage of early reservation opportunities and experience the privilege of Mr S yachting.